NIGHT
CLUB
ACT
TOURS
HOSPITALS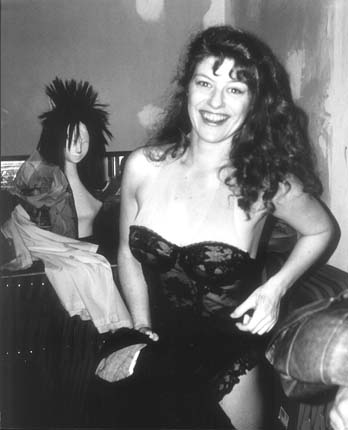 PERFORMER "MAD MEL"
SIZZLES FOR THE SENIOR SET
By GWEN GIBSON
Maturity News Service
July 4, 1994


On a recent steamy Washington night, Mad Mel, a vivacious young entertainer, set her keyboard up in the dining room of a senior citizens' residence and staged a one-woman show of songs, dance and patter that smacked of old-time vaudeville.

Though the audience at St. Mary's Court was small and her fee was meager, Mel worked the room at times like a torch singer working a club filled with conventioneers. Before her one-hour show was over, Mel had the 60-80-year-olds in her audience tapping their feet or singing along to her vintage songs. Two men jitterbugged with her and one sixty-something woman joined her in an impromptu jazz dance.

Mad Mel has been performing in nursing and retirement centers in Washington, D.C. and New York City areas for some three years. In 1995 she hopes to branch out with a "geriatric cross country tour".

"I'm working on bookings now in Kentucky, Arizona, New Mexico and California" Mad said as she talked over ice cream and cake after her St. Mary's show.



MORE THAN A SONGSTRESS


A pretty, shapely, chestnut-haired woman, Mel is a classically trained soprano with a three-octave range, a vast repertoire of old songs and a nonstop, Joan Rivers-like gift of gab.

Declining to give her age, Mel said with a lyrical laugh "I'm old enough to appreciate life and young enough to experience it."

The entertainer travels to dates on the senior citizen circuit in a 21-year-old BMW, which she loads up with her 55-pound computerized Korg keyboard, a Maxi-Mouse amplifier "like the street musicians use", and an array of extra cords, microphones and mike stands.

The fees she receives from senior centers barely cover expenses.

"My mom and dad help me out" she said. But the economic hardships of her new career are apparently offset by other rewards.
br> "I get a lot of big smiles, and 'bless yous' and a lot of people say 'You remind me of my niece or my granddaughter" said Mel, who obviously has a special rapport with older audiences.



LIKE PART OF THE FAMILY


""I tell them I'll be their granddaughter. I take pictures and write back to some of them. Sometimes I take their hand and just give them a big shot of love."

Mad recalled seeing seniors get up and dance with their walkers at some of her shows.

"Music is a great healer. It can move mountains" she said. "For instance, one woman celebrating her 100th birthday waltzed with a young staff member when I sang 'Anniversary Waltz'."

Born in the nation's capital, Mel has been performing since age 5, when she recited poetry on stage at the University of Maryland.

Her credits over the years include acting, dancing or singing roles in movies, television, radio and night clubs.


In Hollywood, she had a supporting role in the movie Out On A Limb starring Shirley MacLaine. In Boston, she starred as Kay in the George Gershwin musical Oh, Kay! In New York, one of her night club acts, "The Battle of the Bands", featured Mel singing jazz, country and rock in entirely different styles.

Mad inherited her love of show business from her grandmother and mother, both once well-known solo soprano artists in Canada.



OLD FAVORITES


"I started singing in the womb" Mel laughed. "And ever since I can remember I've loved the old songs best. I have my grandmother's entire collection of sheet music on old brown paper, including songs in Russian, French and Italian."

It was partly Mad's love of music from the '20s, '30s and '40s that prompted her to write and produce a one-woman show tailored especially for seniors. In addition, she had developed such an allergy to amoke that she could no longer work smoke-filled night clubs.

"At first I was afraid that playing in nursing homes could be depressing" Mel said. "And I was depressed the first time I did it. But about an hour later, after I got home, I felt so happy because all that stuck in my mind were those smiles."

Mad Mel, who sings in seven languages and speaks in dialects ranging from British to Transylvanian, can adapt her show for various ethnic groups. Her repertoire of some 300 songs ranges from "Aba Daba Honeymoon" to "Peg of My Heart", "Sorrento", "Stardust" and "Yankee Doodle Boy".

"I try to make people feel happy and relaxed and bring out their creativity and kookiness" she said. It's important to bring the child side out, no matter what age you are."

Mel said she benefits, in turn, from "all the wisdom and history and experience these people have to hand down."

"I urge more young people to get involved with seniors" she added. "They're just like us, after all, only a few years older."