By LAURA WAY
Rap, reggae and alternative may be the music of choice among yuppies and teens, but for the senior citizens of Aspenwood Retirement Home in Silver Spring, "Breezing Along With The Breeze" and "Let Me Call You Sweetheart" are where it's at.

A year and a half ago Mad Mel of the East Village in New York took steps to make a dream of hers come true - to take the music of the 1920's, '30's and '40's to the folks who appreciate it most, the senior citizens who grew up with it. Last week at Aspenwood "Mad Mel" sang, danced, joked and even went down on one knee to sing Al Jolsen's "Mammy" to a shyly grinning senior.

"I enjoyed the whole program", said Harold Ganss, a former Washington Post employee who lives at the home. "I can't sing, but I enjoy music."

Many in the audience who began clapping along during the first song and singing with Mel by the second, "Don't Sit Under The Apple Tree With Anyone Else But Me", joined in lustily with the closing line of a Broadway tune, "You're in Hernando's Hideaway, O-o-olay!" During one favorite, "Oh, How We Danced On The Night We Were Wed", Mad held hands with a resident and swayed gently with her.

"I do all this stuff out of a lot of love for these people", Mel said. "I want to bring it also to younger people and do some work with children and puppets."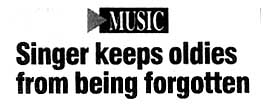 At various times Mel has been a carpenter, a construction worker driving heavy machinery and a legal secretary on Capitol Hill, New York, Boston and Los Angeles. Always, however, she manages to work in theater or television in New York, Boston, L.A. and the Poconos.

"I've been performing since I was 5 years old" she said. Her first stage appearance was reciting a poem "The Little Elf" in a children's program at the University of Maryland in College Park. Locally she narrated fiction for WETA's Washington Ear, played Liesl in a Little Theatre of Alexandria production of "Sound of Music" and participated in a summer-long Arena Stage workshop.

In august she performed her one-woman show "Swing Along With Mel" for residents of Springvale Terrace in Silver Spring and Sunrise Village House in Gaithersburg. A native Washingtonian, Mel moved to New York in 1986, although her agent arranges gigs for her in the Washington area.

Mad Mel, so-called because of her antics and audience interaction, comes by her talents naturally. Her grandmother performed in the Ziegfeld Follies.

"I had my own trio in Montreal", reminisced her mother. "We traveled to military camps and the TB sanitarium, where I had my first chance to do what Mel is doing now. We three snuck away in our glamorous gowns, stood at the bottom of the bed of a soldier with TB and sang to him."


Mel recently achieved a similar goal: in October she "sang and danced around the beds" at Bialy Stoker, a Jewish nursing home on East Broadway.

Performing for the elderly wasn't easy at first.

"I was terrified of old people the first six months" she admitted. "I made up my mind to let myself go, to be myself because I knew they would accept me as I am."

And accept her they did. Friday when she sang "Aba Daba Honeymoon" using hand puppets named Chimpy and Monk and followed it with a soaring "Danny Boy". Many an eye was misty.

"I thought it was great" said Margaret Henderson, a resident of the home since 1992. "I never could sing myself, and I love to hear somebody else sing. It's fantastic."

Mel said this kind of music brings out the best in people. "I'll never stop loving and singing for older people. They're so intelligent; they're so -- there" she said.

Mel's schedule is gruelling. She entertains in New York clubs and travels frequently between there and Washington to do her shows for "maturians".

She constantly is learning new songs and hefting the 70-pound keyboard that provides her accompaniment.

"The stress is amazing. I'm very lonely. I cry a lot", she said.

The rewards, at least for now, offset the stress.

"Making everybody smile and laugh and come to life and be young again - it's like being a miracle worker" she marvelled.

"Sometimes I feel like Santa Claus."